EUF position paper on AML (re. beneficial owners)
Details
EUF has sent the position paper on AML (re. beneficial owners):
EUF updates its Glossary of terms on Factoring and Commercial Finance Industry
Details
We are delighted to announce that we have updated our EUF Glossary of terms relating to the Factoring and Commercial Finance Industry and that this has now been published on our website here. The initial update is in English and other languages will follow shortly. We have also created here a list of Abbreviations and Acronyms that are in common use, both within the Industry and by stakeholders such as regulators and lawmakers. We hope that you will find these updates useful and informative!
EU Factoring and Commercial Finance Federation in collaboration with FCI hosts 3rd Factoring Summit
Details
The EU Federation for the Factoring and Commercial Finance Industry (EUF) and FCI have hosted a highly successful third Summit in Madrid.
A broad and extensive range of C-level participants gathered to consider and discuss the Industry environment and help inform the action plans of the EUF in addressing the opportunities in Europe.
Following two successful Summits in Brussels, this latest meeting was held in Spain, one of the five largest European commercial finance markets. Opened by a "state of the nation" review from Erik Timmermans, the Chairman of the EUF, keynote speaker Pedro Coman from the Bank of Spain addressed the importance of the industry in funding business.
The Summit also considered the significant legal, regulatory and accounting challenges as well as how the Industry might work with potential common interest stakeholders like the Leasing Industry.
Growth, innovation and development opportunities were also subject to detailed analysis and comment in a highly participative event.
The Summit provoked much debate and interest with many commenting on the importance of acting together to address the issues raised. As Erik Timmermans put it "the Industry is currently providing €180bn of funding to European businesses; the Summit has shown again the importance of communicating the benefits - and the particular nature of our Industry - to the regulators and lawmakers to ensure its continued success."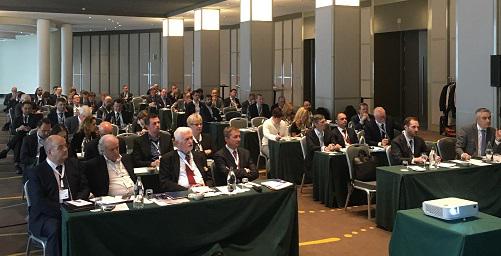 Newsletter Autumn 2016
Details
The EUF is glad to publish its latest Newsletter.
Highlights include:
Welcome from EUF Chairman
News on Legal Committee
Constant and stable growth – Factoring in Figures
The EBA update the definition of default in factoring
The Newsletter may be downloaded here:
EUF Position Paper on Guidelines on Connected Clients
Details
EUF has sent a Position Paper on EBA's Consultation Paper on Guidelines on Connected Clients under Article 4 (1) (39) of Regulation (EU) No 575/2013.