Chairman of the EU Federation
Details
The EU Federation for the Factoring and Commercial Finance Industry (EUF) would like to congratulate Mme Françoise Palle-Guillabert on her becoming the acting Chair of the EU Federation pending election at the EUF Members' Council to be held in March 2018. She has kindly agreed to replace Erik Timmermans, to whom the EU Federation extends its heartfelt thanks for his many years of tireless and effective contribution.
Merry Christmas and Happy New Year!
Details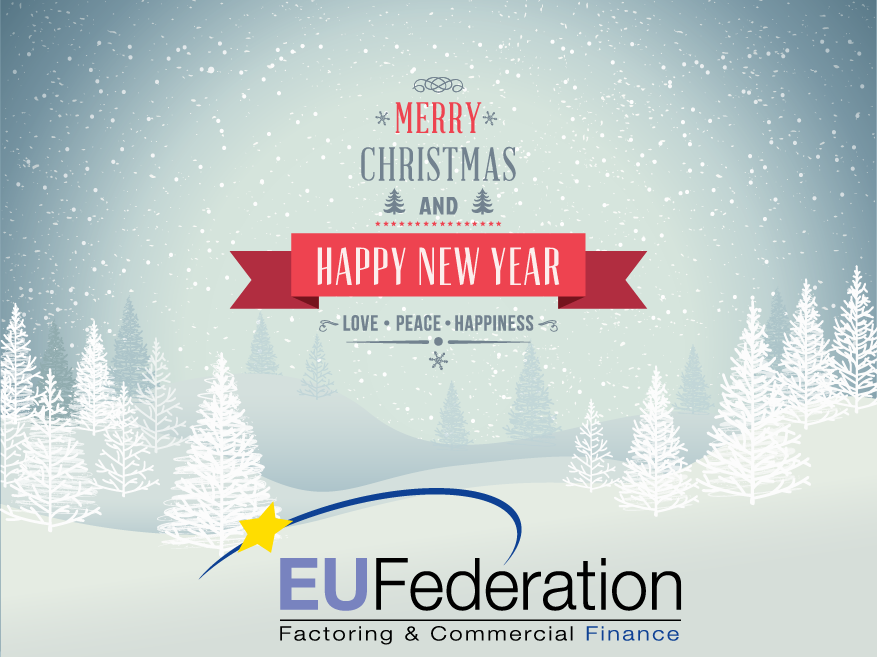 Registration is open for 4th EU Factoring and Commercial Finance Summit
Details
The 4th EU Factoring and Commercial Finance Summit will take place on 6-7 March 2018 in Athens, Greece. The event is organised under a joint initiative between FCI-EUF.
The program of the Summit provides industry stakeholders with an unmissable opportunity to hear about and discuss with colleagues the latest developments in the European Industry.
The comprehensive agenda of the Summit will include:
The Factoring Industry in Europe in 2017
Factoring in Greece
Reports from Legal, Prudential and Economics & Statistics EUF Committees
Helping the Factoring Industry to enter the space of reverse factoring
Developing your future top talent through Education
Presentation on findings of the updated comparative Legal Study of Factoring in Europe
Structuring Multi-Country Receivables Finance deals in a diverse Europe
Fintechs and Alternative Lenders: Competitors or Allies?
2 months left before GDPR: is the Factoring Industry entirely ready?
How will the Factoring Industry look like in 2028?
Key decision makers, Members of EU Parliament, Industry Leaders and colleagues from across the EU will gather in Athens to discuss the latest updates in the Commercial Finance Industry and it's impact on the real economy and employment in Europe.
Visit the event page for further details and information on how to book your place.
EUF Newsletter - Autumn 2017
Details
The EUF is glad to publish its latest Newsletter.
Highlights include:
Welcome from the EUF Chairman
Financial regulation: a modern Great Game
Update from the Legal Committee
2017 half year's figures: European Factoring Market accelerates
Factoring, Fintech and regulation: a shaping environment
The Newsletter may be downloaded here:
EUF – European Multi-Stakeholder Forum on Electronic Invoicing (eInvoicing)
Details
EUF is pleased to announce that Mr. Andrzej Zbikowski, Executive member EUF, has been selected as a member of the European Multi-Stakeholder Forum on eInvoicing (EMSFeI). The EMSEeI plays a distinctive role in adoption of eInvoicing at National and EU-level according to the directive and the European standard on eInvoicing developed by the European Committee for Standardisation (CEN).
The tasks of the Forum are to provide the Commission with high quality legal, economic, technical and/or practical insights and expertise with a view to assisting it in shaping the eInvoicing in the European Union.
Congratulations Mr. Zbikowski !