EUF Newsletter - Autumn 2017
Details
The EUF is glad to publish its latest Newsletter.
Highlights include:
Welcome from the EUF Chairman
Financial regulation: a modern Great Game
Update from the Legal Committee
2017 half year's figures: European Factoring Market accelerates
Factoring, Fintech and regulation: a shaping environment
The Newsletter may be downloaded here:
EUF – European Multi-Stakeholder Forum on Electronic Invoicing (eInvoicing)
Details
EUF is pleased to announce that Mr. Andrzej Zbikowski, Executive member EUF, has been selected as a member of the European Multi-Stakeholder Forum on eInvoicing (EMSFeI). The EMSEeI plays a distinctive role in adoption of eInvoicing at National and EU-level according to the directive and the European standard on eInvoicing developed by the European Committee for Standardisation (CEN).
The tasks of the Forum are to provide the Commission with high quality legal, economic, technical and/or practical insights and expertise with a view to assisting it in shaping the eInvoicing in the European Union.
Congratulations Mr. Zbikowski !
Press Release 2017 half year's figures – European factoring market accelerates
Details
Press Release
2017 half year's figures – European factoring market accelerates
The EU Federation for Factoring and Commercial Finance recently collated the first half year's turnover results for EU factoring market. Responding countries represented 97% of the European factoring market.
Factoring turnover in the first half of 2017 for EU countries exceeded 776 billion euro, an outstanding year on year increase of 9%.
Accordingly, 2017 is shaping up to be the 8th year of constant, continuous growth in factoring turnover, confirming that factoring is now perceived by companies as one of their main sources of funding.
In the same period of 2016, year on year increase was 3,14%, so this year's higher value suggests that final turnover growth for 2017 will be significantly higher than that experienced in 2016 and could even exceed 15%, a figure that would be more than twice the market's 5 years' average compound annual growth rate.
This year's GDP penetration ratio was higher than the last year's (10,4% comparing to 9,6% in first half of 2016), and there were wide variations between countries.
e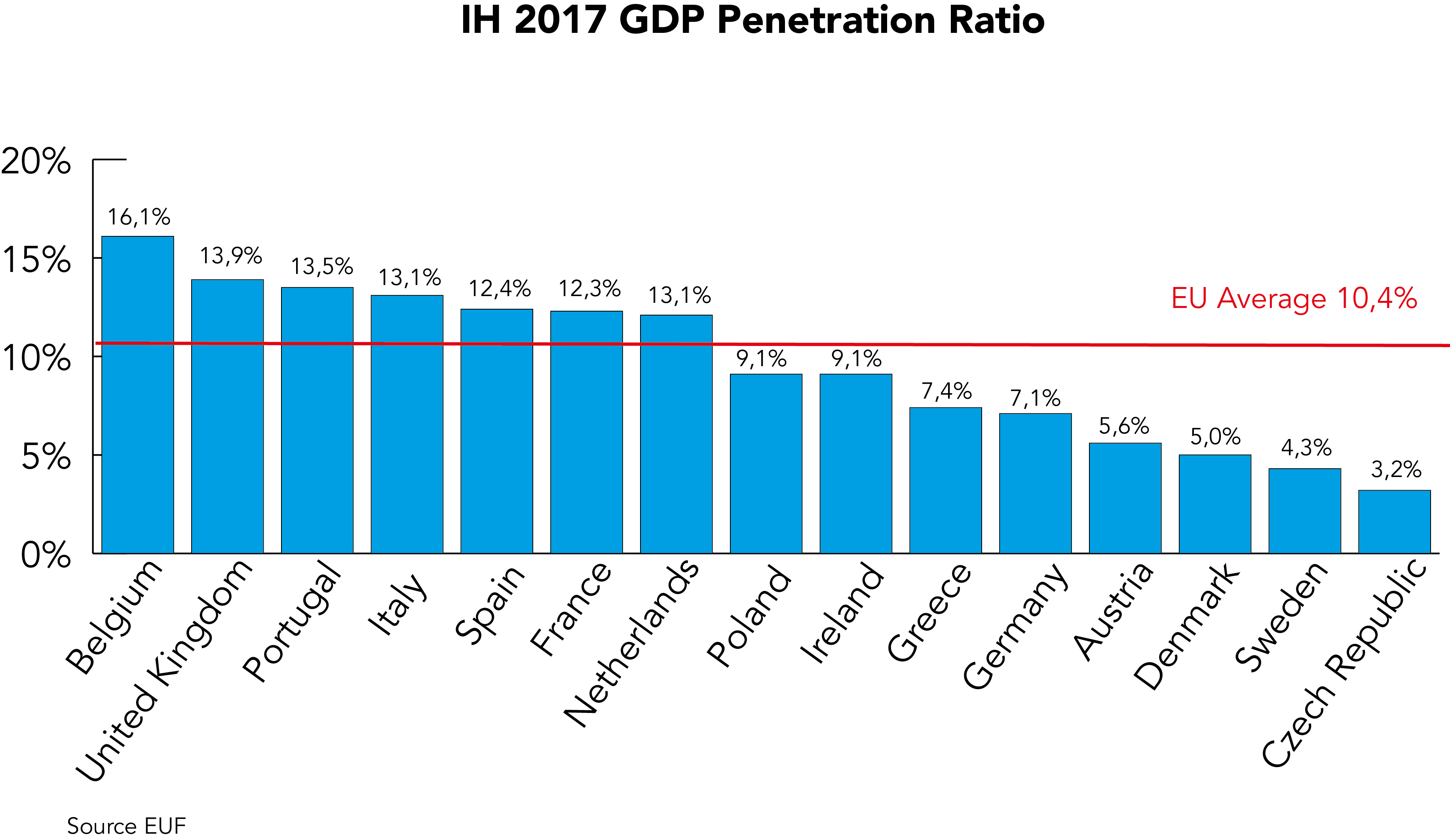 The high level of concentration shown by the EU factoring market remained unchanged.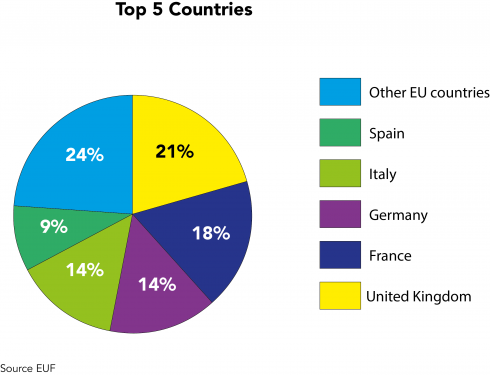 In conclusion, data collected by the EU Federation for the first half of 2017 shows that factoring is developing much faster than the EU economy and this is because it is becoming a recognized source of financing for companies. Moreover, there is a growing interest in non-recourse factoring, which apart from financing, also provides credit cover against the risk of debtor's insolvency. The combination of these two main features is being seen by companies as a key element in supporting their sustainable development.
Now available - EUF Yearbook 2016-2017
Details
The EUF is delighted to announce that it has published its second Yearbook covering the period 2016-2017.
In it you will find a wealth of information about the EUF, its work and achievements:
The Year in Review
It's been a period of development and change for the Industry and its outlook. Erik Timmermans, Chairman EUF and Francoise Palle-Guillabert, Vice Chairman EUF share their views and observations with John Brehcist, EUF Coordinator
Timeline 2016-2017
We look at what's been happening in the EUF and the impact of its activities
Highlights
Amongst all the programmes we focus on a couple of the headline events, the 3rd Factoring Summit and the Annual Meeting
Statistics Summary
Here we share our focus on the Industry statistics; size, shape and economic impact
Our Members
The members of the EUF and their contact details
Meet the Executive Committee
The members of the EUF and their contact details
Meet the Operational Committees
The members of the EUF's operations committees and their contact details
The Yearbook is available to download from here:
EUF - LEASEUROPE Position Paper on Insolvency Directive COM-2016-0723
Details
Joint Position Paper sent by EUF and Leaseurope on common rules for Insolvency